Jeff Bezos and Lauren Sánchez's superyacht engagement
the Amazon billionaire's partner was snapped on his new US$500 million Koru vessel with a massive ring – and a goddess-like prow statue
According to reports, Bezos popped the question to Lauren Sánchez while on board his brand-new Koru superyacht – she's since been photographed donning a huge rock on her ring finger
Bezos has also seemingly immortalised his partner as a massive figurehead on the colossal boat, similar to how Barry Diller had his wife Diane von Furstenberg sculpted for their Enigma superyacht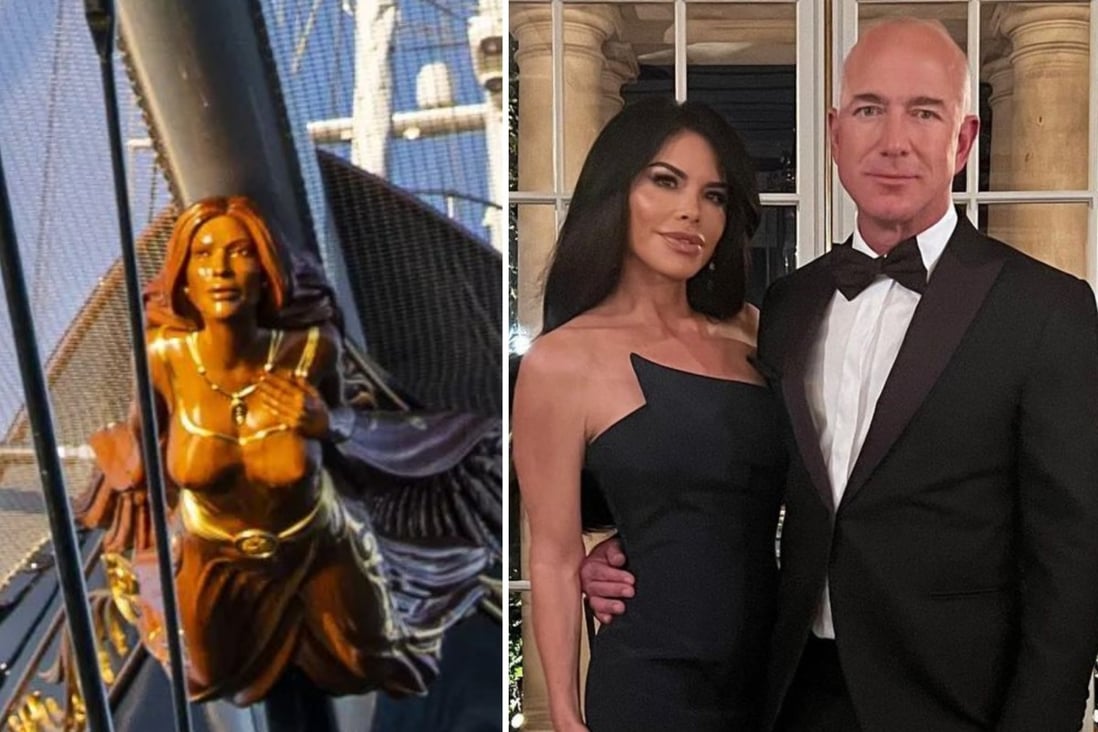 Lauren Sánchez and Jeff Bezos are reportedly engaged after visiting the US$500 million Koru superyacht. Photos: @laurewsanchez, @yacht_shot/Instagram
Jeff Bezos is a man of wealth – and grand gestures too, apparently!
British tabloids are reporting that Bezos popped the question to partner Lauren Sánchez during a romantic proposal on his brand new yacht.
Sánchez has since been snapped with a gigantic new rock on her ring finger, seemingly confirming the happy news.
The two rumoured-to-be-engaged lovers were snapped off the coast of Cannes, where they are enjoying a Mediterranean getaway and the inaugural voyage of Bezos' new superyacht.
What's even more romantic? The besotted billionaire's 416ft yacht Koru sports a voluptuous figurehead on the prow bearing an uncanny resemblance to 53-year-old Sánchez.
Jeff Bezos' extravagant 416ft yacht Koru has a figurehead on the prow that bears a striking resemblance to his glamorous girlfriend Lauren Sanchez, 53 pic.twitter.com/PebRTwsHnD

— News News News (@NewsNew97351204) May 18, 2023
The polished wooden sculpture sits on the prow of the Amazon founder's love boat, seemingly styling striking beauty Sánchez as a classical goddess – appropriate indeed.
The details mirror Sánchez perfectly, from the volume of her flowing hair to the centre-parted style that she usually sports. Even the facial features – a full lip, a defined jawline and the size and shape of her neck – seem duplicated to the T.
Bezos, 59, has truly hit the ball out of the park by celebrating his lady love with the magnificent figurehead on the world's second-largest sailing yacht that he affectionately named himself.
He may have commissioned the maritime giant in 2018, but with this addition, Koru will always bring the lovely Sánchez to mind first, followed by the world's third richest man.
The loved-up couple started dating in 2018, and their incredible journey aboard Koru began earlier this month when they were spotted on the Oceanco mammoth for the first time.
According to British media, the philanthropist arrived on the Spanish Balearic Island by private jet before being transferred to a helicopter that whisked the couple to their big boat. They admired the schooner and her three towering masts that measured more than 70 metres (230 feet) high while mingling with the crew and enjoying each other's company.