Like many of her contemporaries, Ariana Grande's Journey To Pop Megastar got her biggest showbiz break on television. The multi-talented star — who was born on June 26, 1993, in Boca Raton, Fla. — first rose to fame with her role as Cat Valentine in the Nickelodeon series "Victorious." After the show aired its series finale in 2013, Grande joined forces with "iCarly" star, Jennette McCurdy in the spin-off "Sam & Cat." The series ran for one season until 2014, priming the performer to make a splash in the music industry.
During her Nickelodeon days, Grande showcased her impressive vocals on her YouTube channel with covers of legendary divas like Mariah Carey and Alicia Keys — later in her career, she'd utilize these talents on the late-night circuit with her spot-on impressions of stars like Celine Dion, Britney Spears, and more. The waves she began to make in the music industry soon led to a big splash with her first solo single, "The Way," featuring the late Mac Miller. The song marked Grande's first foray onto the Billboard Hot 100 top 10, peaking at #9 in 2013.
In the years since, Grande has diversified her talents in multiple realms, from music and film to TV, beauty, and more. The record-breaking artist is primed to continue down this path effortlessly evolving herself from a beloved child star to an all-around pop culture icon.
During Ariana Grande's time on "Victorious," her affable character Cat Valentine had signature fire-engine red hair. Even after breaking away from her Nickelodeon image with her albums, "Yours Truly" and "My Everything" (both of which went to No. 1 on the Billboard charts), Grande was forced to keep the same hairstyle — a high ponytail with heavy extensions — due to the damage that dyeing her hair for the show caused.
In a since-deleted 2014 Instagram post, Grande wrote, "I had to bleach my hair and dye it red every other week for the first four years of playing Cat… I wear extensions but I wear it in a ponytail because my actual hair is so broken that it looks absolutely … absurd when I let it down," she shared. "So as annoying as it is for y'all to have to look at the same hairstyle all the time, it's all that works for now (and I'm comfortable for the first time in years).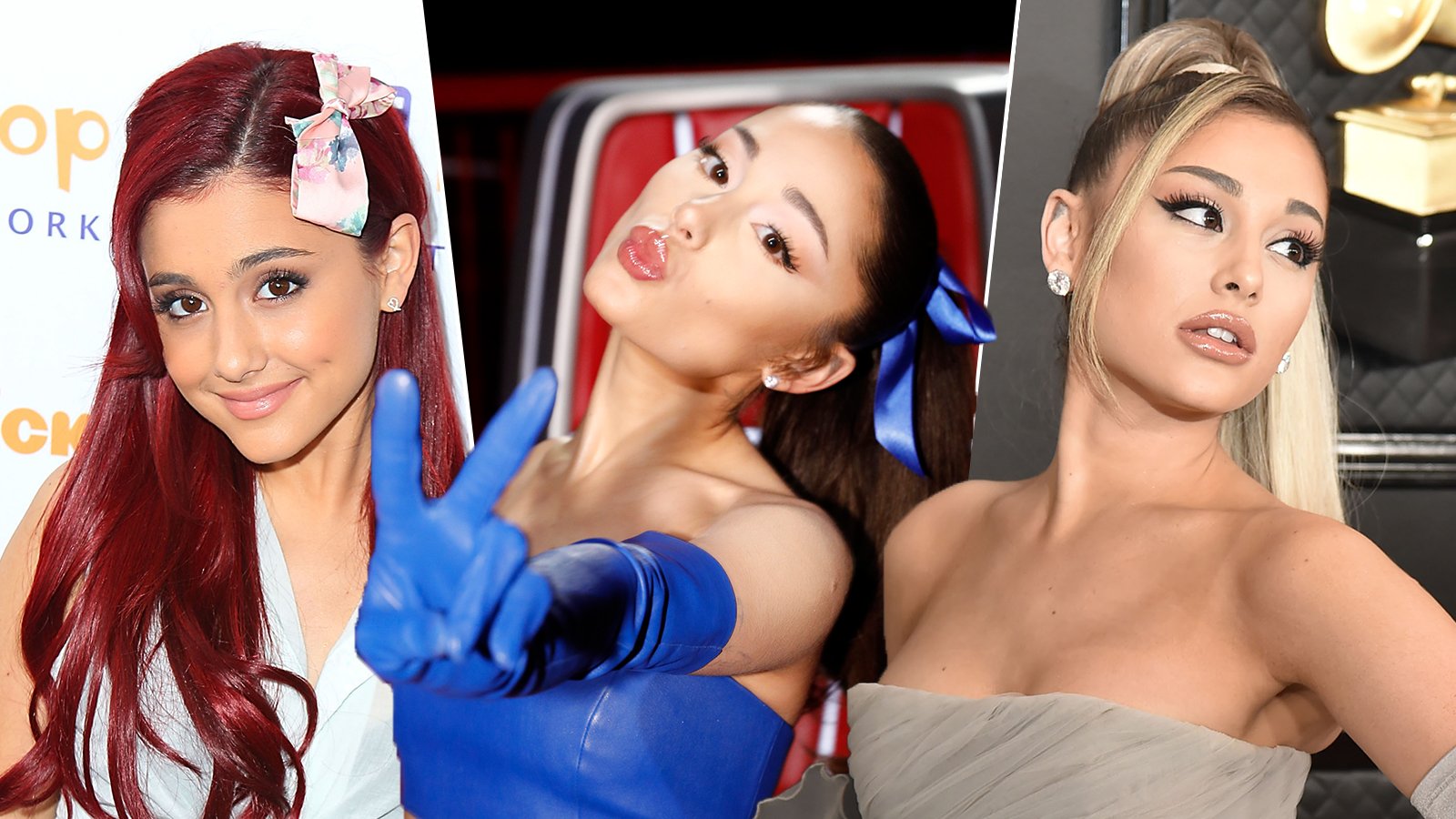 By 2016, Grande was fully removed from her Nickelodeon contract and began to experiment with new hairstyles. She debuted long, luscious locks in her music video for "Dangerous Woman," the title track of her third album, which was released that same year.
While on her "Dangerous Woman" tour in 2017, tragedy struck at a May 22 concert in Manchester, England. Just as Grande had finished her concert at the Manchester Arena, an explosion was detonated within the foyer of the venue, killing 22 people and wounding 59 others, per The New York Times.  Thirteen days after the terrorist attack, Grande returned to Manchester with her "One Love Manchester" benefit concert. The event brought together Grande's friends and fellow artists, including Katy Perry, Little Mix, Miley Cyrus, and more to show love, and support, and help heal the community through music. The concert raised over $13 million for the victims of the attack.
The traumatic event had a colossal impact on Grande's mental health, and she even experienced PTSD. In 2018, she opened up to British Vogue about how the attack affected her. "I've always had anxiety," she said. "I've never really spoken about it because I thought everyone had it, but when I got home from [the] tour, it was the most severe I think it's ever been."
In the same interview, Grande revealed that she struggled to discuss her own grief concerning the incident given the magnitude of loss experienced by all the families and fans impacted by the attack. "…I feel like I shouldn't even be talking about my own experience — like I shouldn't even say anything," she said. "I don't think I'll ever know how to talk about it and not cry."
If you or someone you know needs help with mental health, please contact the Crisis Text Line by texting HOME to 741741, call the National Alliance on Mental Illness helpline at 1-800-950-NAMI (6264), or visit the National Institute of Mental Health website.